Lawn Care, Fertilizer & Weed Control services in Calgary
Be the envy of the neighborhood with Greener Grass's Premium Program. With the slow release fertilizer, you will enjoy a consistantly green, weed-free lawn all season long.
4 Applications of SLOW RELEASE GRANULAR Fertilizer and Spot Treatment of Weed Control applied every 5-6 weeks.
The Greener Grass Standard Program will keep your lawn green and weed-free all season.
4 Applications of LIQUID Fertilizer and Spot Treatment of Weed Control applied every 5-6 weeks.
A more natural option, the Greener Grass Organic fertilizer will give you a thick, green lawn and replenish the soil with the nutrients needed for optimum growing conditions.
4 Applications of ORGANIC GRANULAR FERTILIZER with "Optional" Spot Treatment of Weed Control applied every 5-6 weeks
(Weed control is not organic)
More residential lawn care services…
Looking for more ways to get a lush green lawn?
We also provide aerating, power raking, vegetation control and over-seeding!

Aerating
Reduces soil compaction and helps control thatch in the lawn while helping water and fertilizer move into the root zone. Aeration also helps to reduce run-off when watering the lawn. Recommended annually in the spring or fall.
Aeration Plugs are left on the lawn to break down naturally with lawn mowing and watering providing a top dressing.
Starting From $80.00 + GST
Order with Power Raking and SAVE $20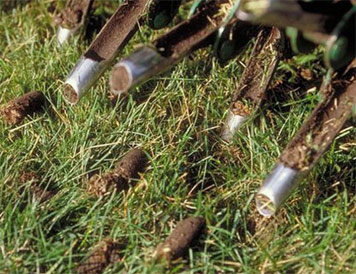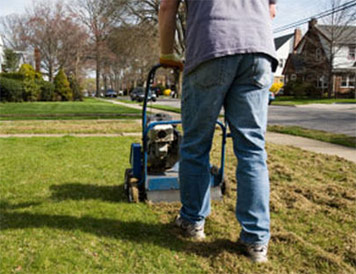 Power Raking
Power Raking is done to remove dead grass and excess thatch from the lawn. This is done in the spring prior to new growth. The service involves power raking by machine, hand raking and bagging of clippings, followed by a high cut to collect excess clippings and groom lawn. Bags of clippings are left on site for your regular garbage pickup.
Lawn surface cleanup only. Does not include cleanup of planting beds, tree wells, fall leaves or general debris.
Starting From $140.00 + GST
Order with Aeration and SAVE $20
Vegetation Control
Used for eliminating all unwanted vegetation. This would be used prior
to planting new lawns / landscaping, or to maintain growth-free patios,
driveways, parking pads and back lanes.
Starting From $100.00 + GST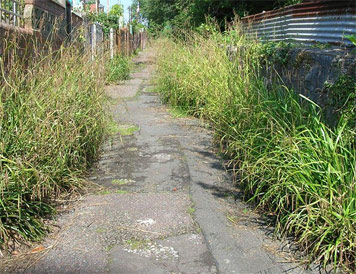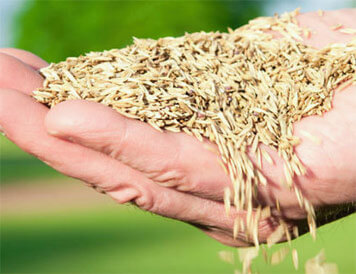 Over Seeding
Overseeding is the spreading of grass seed directly onto existing lawns, without tearing up the lawn or soil. It's an easy way to fill in bare spots, improve the density of the lawn, establish improved grass varieties and enhance your lawn's color.
Starting From $69.95 + GST
Soil Enhancer
A liquid application of micronutrients designed to help improve the soil condition for plant growth. Poor soil health can lead to impacted and nutrient-depleted soil, hindering the lawn's growth and restricting root development.
Starting From $69.95 + GST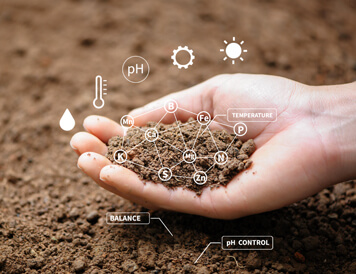 Facts about lawn care on residential properties
All of our services are designed first and foremost with residential homeowners in mind. Greener Grass recognizes that your property is not just a home, it is an investment and we take that seriously. We take pride that our services are priced affordably to accommodate a spectrum of budgets. Professional care of your lawn adds not just financial value to your home, but gives you a space to relax and enjoy quality time with family and friends. Quality service and care is just a few clicks away. Scroll down for pricing and to see what we have to offer.
When should you get lawn care?
We have many services available throughout the season.  Power Raking Service is done only in the spring prior to new growth and aeration is offered in the spring and again in the fall. To learn more about what services we offer and when they available click our Services & Prices tab, or contact one of our technicians today.
Why should you care for your lawn?
Keeping your property clean and healthy looking is the best way to enjoy the outside spaces of your property. Greener Grass offers many services, but the value of our lawn care services boils down to just two things; quality and ease. Quality of care and the gift of time are worthy investments not just in your property, but in your own time.
How do we care for residential lawns?
It completely depends on the property. Our services can be scaled up or down depending on property size and budget. Fertilizer and Weed Control Programs are our most common services but we can customize a program for you by adding Power Raking, Aeration, Over Seeding or Vegetation Control.
Weed Control treatments are included in all of our fertilizing programs.  We can also offer weed control in non lawn areas (back lane, parking area, sidewalks, patios) with our Vegetation Control option.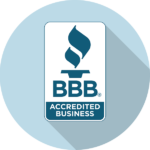 Better Business Bureau
A+ Ranking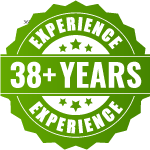 Servicing Calgary and Area Since 1986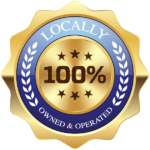 Family Owned & Operated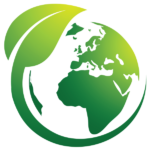 Caring for your lawn and the Environment