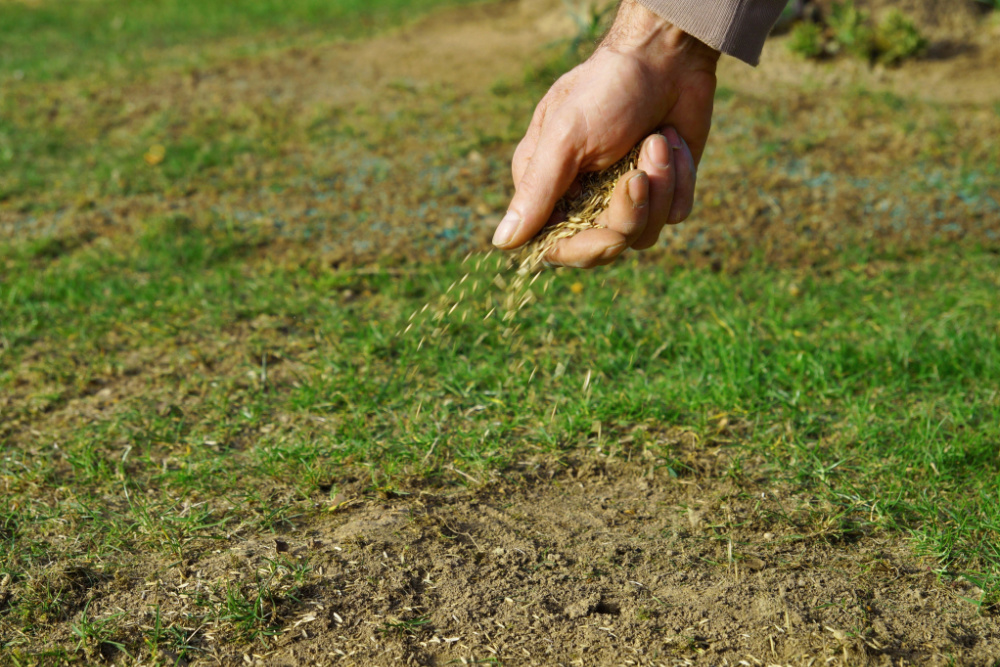 The Best Time To Overseed Your Lawn In Alberta
Are you looking to beautify your lawn? Overseeding can make your lawn lush, green, and healthy. Even a patchy lawn that has been damaged by this year's intense summer heat and sun can be brought back to life with overseeding. The question is – when is the perfect time to overseed your lawn in Alberta? And are professional overseeding services necessary?
We provide all of the details you need about overseeding in this blog.
What is overseeding?
Overseeding involves applying seed directly to the existing turf without tearing up the soil or grass. This method is an easy way to fill bare spots, improve the resilience and density of the lawn, and enhance its colour. If you notice that your lawn has become prone to disease or requires increased water and fertilizer, overseeding is a perfect solution. 
Some benefits of overseeding include:
Fewer weeds – A worn-out lawn invites weeds to grow and spread – overseeding results in a thicker lawn, which naturally controls weeds.

A resilient lawn – A healthy and lush lawn can withstand common stressors such as heat, dry weather, snow, foot traffic, compacted soil, and weather extremes.

Improved appearance – No more patchy areas! Applying seed directly to the turf fills in bare spots and enhances the overall aesthetic of your lawn. 
When to overseed your lawn
While you can overseed your lawn any time of the year, there are ideal times to do so with our cooler climate in Canada. Some of the best times to apply seed are:
During the growing season in spring, before the summer heat sets in.

Late summer or early fall (late September to the middle of October).

When the soil temperature is between 10-20 degrees Celcius.
Overseeding during cooler days helps germinate the grass seed without the risk of the summer heat disrupting growth. Having a strong and healthy lawn during the winter when the weight of snow settles in ensures thick and resilient grass come springtime. 
Professional overseeding services
As a professional lawn care company, one of the most common questions we get is, "Can I do this myself?" Our answer is: yes, of course you can, but consider the pros and cons of DIY lawn care compared to professional services.
While you can certainly seed your lawn on your own, professionals will know how to analyze any underlying problems that caused your existing turf to deteriorate. These problems can be due to poor soil condition, soil compaction, poor fertilization, excess thatch, and more. If these problems are not addressed, the overseeded lawn will eventually deteriorate too. 
With a professional lawn care company, overseeding is typically part of a package that includes fertilizer and aeration. These additional services ensure that lawn issues are addressed so your lawn can grow denser and resist damage from diseases and insects. When you consider the overall cost of purchasing a large bag of seed, equipment, time spent, and research, purchasing a lawn care package becomes the more economical option.