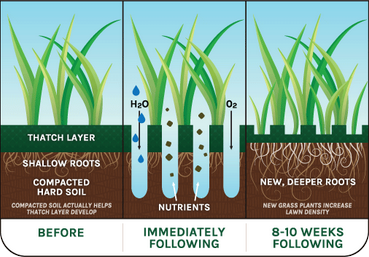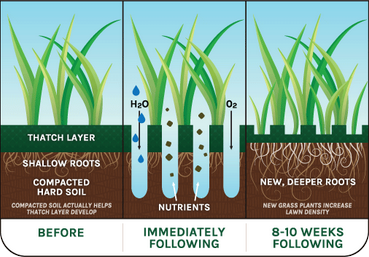 Spring Lawn Care in Calgary is especially important since we can experience long snowy winters which leave your lawn vulnerable to spring lawn diseases such as "Snow Mould" (which is essentially patches of dying or dead grass).  Living in Calgary comes with unpredictable snowfall even in spring.  Piles of snow can create problems for your lawn as the temperature rises.  If parts of your lawn remain buried under snowdrifts or piles from shoveling, those parts of your lawn will be especially vulnerable to developing spring lawn diseases.  To help prevent spring lawn care problems, spread snow evenly to help speed melting.
​Spring Lawn Maintenance should begin with Power Raking your lawn to remove excess dead grass.  If this dead grass is allowed to remain and you don't bag your clippings when mowing, it can build up a thick layer of thatch which inhibits the penetration of water and lawn fertilizer.
Lawn Fertilizer is important in the spring to feed the grass encouraging growth and a beautiful green color.  Our programs of Liquid Fertilizer, Slow Release Granular Fertilizer and Organic Fertilizer are all good options for feeding your lawn.  We also provide weed control with our programs to keep your lawn beautiful and weed free all season long.
AERATION:
During the cold Calgary winter, the soil under your lawn becomes compacted leaving fewer air pockets to allow water and nutrients to reach the roots which gives them room to grow.  Lawn Aeration is ideal in the spring to replenish the air pockets needed to allow liquid or granular Fertilizer and water to move into the root zone.  Lawn Aeration in Calgary should be completed annually to combat the soil compaction after each winter.  Alternatively, aeration can also be done in the fall.