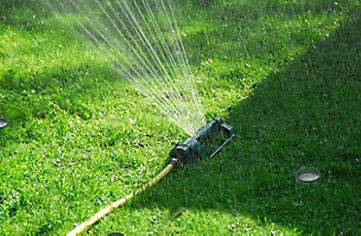 Watering Your Lawn In Calgary
No Lawn Maintenance schedule is complete without watering. Watering you lawn is essential to keeping your lawn healthy, lush and a beautiful green.
Your lawn requires a "heavy" watering once or twice a week depending on weather, soil conditions and lawn slope. Leave your sprinkler on for 30-60 minute intervals for each area, this should equal approximately 1 inch of water. Frequent light waterings do not penetrate the soil deep enough to keep the roots satisfied. When this happens, the roots stay at the surface and dry out very quickly causing the lawn to yellow. The amount of watering required will vary depending on the outdoor temperature and whether supplemented by rain.
A lawn care tip to measure how much water your lawn is getting, is to set a flat bottom container somewhere on your lawn that will catch some of the water from your sprinkler.
​If you have a slope to your yard and find the water is running off, you may want to consider aerating your lawn which will loosen the soil compaction and allow the water to penetrate.